Climate Change and its Impact on National and Human Security
"Freedom from Want and Freedom from Fear"
Symposium hosted by the Canadian Forces College
Toronto, Ontario, Canada
12 February 2020
This symposium will help participants understand the complex and overlapping political, legal, strategic, and ethical impacts of this topic.
The effects of climate change can aggravate existing vulnerabilities, such as weak governance, and exacerbate sources of tension, such as resource scarcity. The effects of climate change must therefore be considered through a security lens.

— Strong, Secure, Engaged (2017), p. 52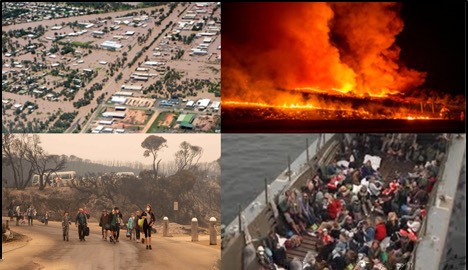 In 2011, UN Secretary-General Ban Ki-moon stated:

"The facts are clear: climate change is real; it is accelerating in a dangerous manner; and it not only exacerbates threats to international peace and security, it is a threat to international peace and security."
Strong, Secure, Engaged, released in June 2017, showed that climate change is a key area of interest and focus to Canada. "Climate change threatens to disrupt the lives and livelihoods of millions around the world. It also presents us with an urgent call to innovate, to foster collective action, to work hand-in-hand with like-minded partners around the world to meet this threat and beat it, rather than stand passively by."
Climate change has emerged as a security challenge that knows no borders.

The increased frequency, severity and magnitude of extreme weather events all over the world – one of the most immediate and visible results of climate change – will likely continue to generate humanitarian crises.

The effects of climate change can also aggravate existing vulnerabilities, such as weak governance, and increase resource scarcity, which in turn heightenstensions and forces migrations.

In Canada, climate change is transforming the Northern landscape, bringing an evolving set of safety and security challenges, from greater demand for search and rescue to increased international attention and military activity.

— Strong, Secure, Engaged (2017), p. 52
Wednesday, 12 February 2020
0800–0815
Welcoming Remarks
Ms Melinda Mansour, Director, Centre for National Security Studies, and
Brigadier-General Brian McPherson, Commandant, Canadian Forces College
0815–0900
Framing the Problem — An Overview
Canada's Changing Climate Report: This report is about how and why Canada's climate has changed and what changes are projected for the future. Led by Environment and Climate Change Canada, this document is the first of a series to be released as part of Canada in a Changing Climate: Advancing our Knowledge for Action. It documents changes across Canada in temperature, precipitation, snow, ice, permafrost, and freshwater availability as well as in Canada's three oceans.
Ms Elizabeth Bush, Senior Climate Science Advisor, Environment Canada
0900–1000
Keynote: The Climate/Security Nexus
Mr Daniel Jean, Former National Security Advisor to Prime Minister Trudeau (May 2016 – April 2018)
1030–1200
Session 1: Environmental Impacts on International and Continental Security
Panel Description:

The United Nations Intergovernmental Panel on Climate Change (IPCC) now includes a subsection on 'Human Security' in their Assessment Reports. In its first inclusion in 2014, it concluded that climate change is likely to increase climate migration due to resource shortfalls and extreme weather events. This is more likely to occur in low-income developing countries, and has the potential to indirectly increase the risk of violent conflicts, such as civil war and inter-group violence, due to conflict drivers such as poverty and economic shock. Climate change will also have an impact on the infrastructure and territorial integrity of States, and will thus influence national security policies. This panel will consider current and future climate trends and consider actual and potential results.

Moderator:

Dr Paul Mitchell, Director of Academics, Canadian Forces College

Panelists:

Captain Steve Brock (USN, Ret'd), Center for Climate and Security, Washington, D.C.
Ms Krista House, Deputy Director, Natural Disaster Response for Global Affairs Canada
Lieutenant-Colonel Raymond Chiasson, Deputy Chief of Staff Operations and Plans, Joint Task Force North
1330–1500
Session 2: How is Canada, and how should Canada be, preparing to address environmental impacts on security?
Panel Description:

The second panel seeks to build upon discussions of challenges that were presented during the morning session and to discuss some actions that can be taken to address the social, economic, and political consequences of climate change that are being felt globally. How can we address the impacts on the current geopolitical order which is being affected by increased drought; climate-induced forced migrations; and the melting of the polar ice caps? What should we consider when planning and executing international and domestic operations in regions that have been severely affected by climate change? What is the impact on infrastructure and how should we and our allies be preparing? How will this affect the CAF's force and capability development?

Moderator:

Lieutenant-Colonel Claire Bramma, Curriculum Development Officer, Canadian Forces College

Panelists:

Colonel Claude Desgagné, Director General Capability and Structure Integration
Lieutenant Commander Oliver Leighton Barrett (USN, Ret'd), The Center for Climate and Security
Lieutenant-Colonel Robin Lessard, Canadian Joint Operations Command J5-5 (TBC)
1530–1600
Synthesis of the Day's Presentations — A Summary
Lieutenant-Colonel John Cochrane, Chair, Department of Innovative Studies, Canadian Forces College
1600–1615
Final wrap-up by the organizers
1615–1700
Design Tutorial Preparatory Remarks
---
Interested in attending? Send an email to this address. Please include your name, organization, and contact information (phone and email). There is limited seating.
Unable to attend? The symposium will be streamed starting at 0800 hrs on 12 February 2020 at this link.
Date modified: