Brigadier-General J.R. Giguère, OMM, MSM, CD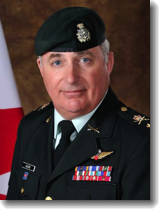 Brigadier-General Richard Giguère enrolled in the Canadian Forces in 1979. From 1980 to 1991, he served with the three Royal 22e Régiment (R22eR) battalions in various command and staff positions, ranging from Lahr, Germany, to the 1990 Oka crisis. He was posted to Royal Military College Saint-Jean in 1991 and to Paris in 1993. He graduated from the Collège interarmées de Défense and left France in 1995 to become Deputy Commanding Officer of 1st Battalion R22eR. He was deployed with that unit to Haiti from March to October 1996 on a United Nations mission. He was promoted to lieutenant-colonel in 1997 and posted to the Directorate Land Strategic Concepts in Kingston, Ontario, where he worked on planning the Army of the future. He returned to Quebec in July 1998 and assumed command of 2nd Battalion R22eR and the Citadel of Quebec.
During his term as commanding officer, he enrolled in Laval University to begin a doctorate in political science and also held a research position at the Institut québécois des hautes études internationales. He was transferred to the Royal Military College of Canada in Kingston, Ontario, in the summer of 2001 to teach in the Department of Political Science and Economics. In July 2002, he was transferred to Montreal as Chief of Operations for Land Force Quebec Area. After being promoted to colonel, he was deployed to Kabul from January to July 2004 as Multinational Brigade Chief of Staff. During that mission, he was posted to the Canadian Embassy in Washington as Canadian Forces Military Attaché. In 2008, he was transferred to National Defence Headquarters in Ottawa, where he held the position of Director Current Operations for the Strategic Joint Staff. In September 2010, Brigadier-General Giguère was deployed to Kandahar as Deputy Commander of Joint Task Force - Afghanistan. Upon his return to Canada in August 2011, he assumed command of Land Force Quebec Area and Joint Task Force (East).
Brigadier-General Giguère served as Commandant of the Canadian Forces College from July 2013 to July 2015.
He holds a bachelor's degree in military and strategic studies from Royal Military College Saint-Jean and a Diploma of Specialized Advanced Studies in Strategic Studies from the Université Paris-Nord.
Brigadier-General Giguère is a native of Quebec City. He is married to Chantal Descôteaux and is the father of Catherine, Simon, Louis and Rémi.
Date modified: