Captain (Navy) H.G. Canuel, CD
Director of Programmes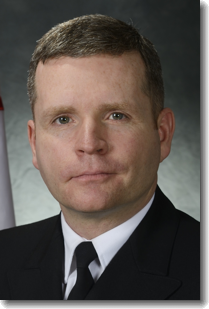 Captain (Navy) Hugues Canuel was born and raised in Matane, Québec. He joined the Corps des Cadets de la Marine royale canadienne Le Dauphin in 1983 before enrolling in the Canadian Armed Forces in 1986.
He graduated from the Collège militaire royal de Saint-Jean in 1991 and then served in various ships of the Pacific and the Atlantic Fleets as a Diving, Navigation and Communications Officer; Operations Room Officer and Anti-Air Warfare Controller; and Fleet Combat Officer. He sailed to Northeast Asia in the frigate HMCS Vancouver in 1994 and Southeast Asia in the destroyer HMCS Huron in 1997, in support of Canadian diplomacy and to conduct extensive exercises with local navies throughout these areas of strategic importance.
In 1999, Capt(N) Canuel deployed with NATO's Standing Naval Force in the frigate HMCS Ville de Québec, conducting drug interdiction operations in the Caribbean basin, prior to joining the destroyer HMCS Iroquois in October 2001 for the deployment of the first Canadian Task Group to Southwest Asia in the wake of the dramatic events of 9/11. In 2002, he was transferred to the staff of the Commander Canadian Fleet Atlantic, overseeing follow-on deployments.
Lieutenant-Commander Canuel then served at National Defence Headquarters in Ottawa with the Directorate of Maritime Strategy (2004) and completed the Canadian Forces Command and Staff Course at the Canadian Forces College in 2006. That same year, he was appointed Executive Officer in the frigate HMCS Ottawa, as the ship deployed to the Arabian Sea and Horn-of-Africa region to undertake anti-piracy work. Commander Canuel returned to Maritime Staff Headquarters in 2007 to serve as Director of Strategic Communications, transferring to the post of Executive Secretary to the Chief of the Maritime Staff in 2008. Cdr Canuel was appointed in January 2009 as Executive Officer in the replenishment ship HMCS Preserver, taking command of the ship in December of that same year. He next deployed to Kabul to assist in standing up Canada's contribution to the NATO Training Mission — Afghanistan, serving successively as an advisor to the Afghan National Civil Order Police and a staff officer to the Deputy Commander Special Operations Forces in 2011–12.
Commander Canuel joined the Canadian Forces College in June 2012 as Directing Staff on the Joint Command and Staff Programme. Promoted to his current rank in 2015, Capt(N) Canuel remained at CFC to take up the appointment of Director of Programmes. He holds a BA in Études militaires et stratégiques from the Collège militaire royal de Saint-Jean (1991) as well as Master of Arts in War Studies (2001) and Master of Defence Studies (2006) from the Royal Military College of Canada, where he is currently pursuing a doctorate in War Studies.
Date modified: