Dr Grazia Scoppio
Department of Defence Studies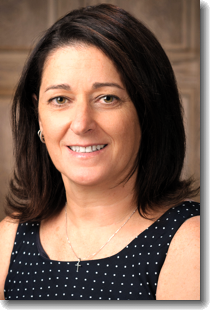 Contact
Email
Tel: 613-541-6000 ext. 6845
Address: Royal Military College of Canada
P.O. Box 17000, Station Forces
Kingston, ON K7K 7B4
Areas of Interest
Military Education
Comparative, International & Development Education
Programme Evaluation & Validation
Distance Learning
Diversity in Military Organizations
Organizational Culture
Whole of Government & Comprehensive Approach
Migration
Globalization
Lessons Learned & Organizational Learning
Educational and Professional Background
Dr. Grazia Scoppio is a Professor in the Department of Defence Studies, Royal Military College of Canada (RMCC). In September 2017, she was appointed Dean of Continuing Studies at RMCC, having served as Associate Dean since 2013. Between 2002 and 2013, she held various appointments at the Canadian Defence Academy and the Canadian Forces Leadership Institute, including: Senior Staff Officer (SSO) Validation, SSO Lessons Learned, SSO Learning and Individual Training and Education Research, and Senior Academic Advisor.
Dr. Scoppio holds a Bachelor of Arts (Honours) from the University of Toronto, a Master's degree from the Université Stendhal Grenoble 3 (France) and a Ph.D. in Education from the University of Toronto. She is the author of a book entitled Immigrants' Integration Seen Through the Prism of Multiculturalism. She authored or co-authored over 20 technical and scientific reports including: A Study of the Regular Officer Training Plan using Gender-based Analysis Plus: Phase 1, Mapping the Pedagogical Landscape in the 21st Century: Trends in Higher Education, the Role of Technology, and Implications for Canada's Military; Leading in Comprehensive Operations; The Importance of Culture: Soft Skills for Inter-Agency, Complex Operations; and Leadership in a Diverse Environment. Her research appears in several journals and edited books including: Res Militaris journal, Canadian Journal of Higher Education, Education and Information Technologies Journal, the International Journal of Diversity in Organizations, Communities and Nations, Canadian Military Journal and the book Managing Diversity in the Military: The Value of Inclusion in a Culture of Uniformity. She presented her research at over 60 national and international conferences, and is an active member of various academic societies including the Inter-University Seminar on Armed Forces and Society, and the Comparative and International Education Society of Canada, where she has been part of the Executive since 2001. From 2014 to 2017 she was the Editor (French) of the bilingual, peer-reviewed, international journal Comparative and International Education, jointly with the Editor (English) Dr. Marianne Larsen from Western University. In 2013, the Commander of the Military Personnel Command awarded to the Canadian Forces Leadership Institute (CFLI) of which she was part, a commendation in recognition of CFLI's development and implementation of a series of leadership programmes for Veterans Affairs Canada and the Royal Canadian Mounted Police.
Current Research and Projects
Dr. Scoppio's latest research is in the area of gender and diversity in military colleges and academies.
Date modified: