Design and Systems Thinking Symposium - 11 and 12 April 2017
Theme: "Breaking Down Silos and Connecting Stakeholders"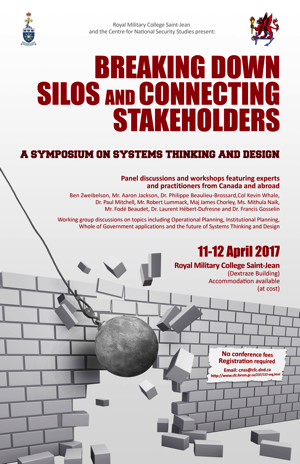 The Royal Military College Saint-Jean (RMC Saint-Jean) and the Centre for National Security Studies are proud to present "Breaking Down Silos and Connecting Stakeholders: A Symposium on Systems Thinking and Design". Held on 11 and 12 April 2017, the Symposium will bring together experts and practitioners from Canada and around the world. Through panel discussions and workshops, participants and speakers will gather to discuss and debate key topics related to design and systems thinking.
Following the keynote address by renowned expert Ben Zweibelson, panel discussions will focus on the status and evolution of design and systems thinking throughout the world, approaches and evolution within the Canadian Armed Forces, as well as applications and the future outside of the military sphere. These panels will be reinforced by workshops discussing design and systems thinking applications and impact on operational and institutional planning, the whole-of-government approach and its future.
Combining experts from around the world and various institutions will make this symposium a must-attend for all, from the curious to the expert. The fact that it is situated in the picturesque RMC Saint-Jean and has no registration fee will make it that much better. In fact, you are fully encouraged to invite interested parties from your own networks and organizations.
Venue
Royal Military College Saint-Jean
Dextraze Building
15 Jacques-Cartier Street North
Saint-Jean-sur-Richelieu, Quebec J3B 8R8
11 April 2017 from 0900 to 1700 hrs, followed by Happy Hour

Introduction: Brigadier-General Kevin Cotten, Commandant, Canadian Forces College (CFC)
Keynote Speech: Ben Zweibelson, Course Director, Design Program, Joint Special Operations University
Panel Discussion: Design and Systems Thinking Around the World, including:

Dr Aaron Jackson, Australian Defence Science and Technology Group;
Dr Philippe Beaulieu-Brossard, Centre for International Policy Studies, University of Ottawa

Opening Ceremony: International Centre for the Study of the Profession of Arms
Panel Discussion: Design and Systems Thinking Within the Canadian Armed Forces, including:

Dr Paul Mitchell, CFC;
Mr Robert Lummack, RMC Saint-Jean;
Major James Chorley, Canadian Special Operations Forces Command
Colonel Kevin Whale, Special Advisor to the Minister of National Defence

Panel Discussion: Design and Systems Thinking Outside the Military Context, including:

Mr Fodé Beaudet, Centre for Intercultural Learning, Canadian Foreign Services Institute;
Dr Francis Gosselin, President, FG8 Consulting;
Dr Laurent Hébert-Dufresne, Santa Fe Institute and the Institute for Disease Modeling;
Ms Mithula Naik, Central Innovation Hub, Privy Council Office

12 April 2017 from 0900 to 1200 hrs

Introduction: Colonel Simon Bernard, Commandant, RMC Saint-Jean
Working Group Discussions facilitated by subject matter experts – participants can self-identify into small group discussions on the application of Design and Systems Thinking on various domains, including:

Operational Planning,
Institutional Planning,
Training and Education,
Whole-of-Government Efforts, and
Future of Design and Systems Thinking

Summary of Working Group Discussions
Keynote Speech
Dress
Military - Order of dress No. 3B: Short sleeves and ribbons
Civilian – Business casual
Meals. Available onsite at a preferred rate.
Accommodation. Available onsite, contact the Fort St-Jean Corporation
Registration
No registration fees
Email CNSS@cfc.dnd.ca with your name, rank (if applicable), organization, email address and telephone number.
Further details, including schedule and speakers will made available on a CNSS web page and by email to those who have registered.
Date modified: