Brigadier-General J.W. Errington, OMM, MSM, CD
Commandant of the Canadian Forces College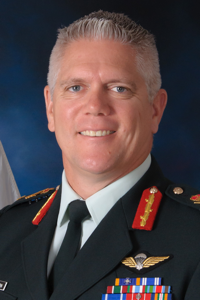 Brigadier-General J.W. (John) Errington joined the Canadian Forces directly from high school in 1990 from Courtenay, British Columbia, and subsequently commissioned into the Princess Patricia's Canadian Light Infantry (PPCLI).
Brigadier-General Errington's command experience includes two years as a Rifle Platoon Commander in 2 PPCLI followed by a year as Recce Platoon Commander. He commanded an Airborne Platoon in both the Canadian Airborne Regiments (CAR) and the PPCLI Parachute Company, before commanding Anti-Armour Platoon. As a Major, he enjoyed two years as Officer Commanding A Company (para) in 3 PPCLI, then another two years in the Operations Squadron at Dwyer Hill Training Centre (DHTC). Following his promotion to LCol, he was appointed as the Special Operations Task Force Commander in Kandahar, Afghanistan, in 2010–2011, earning the Meritorious Service Medal. He assumed command of 3 PPCLI in June of 2012, and held the appointment until after the Regiment's 100th Anniversary Ottawa Commemoration in September 2014. As a Colonel, he commanded the Combat Training Centre in Gagetown from July 2017–July 2019 when he was promoted to BGen. Brigadier-General Errington is very proud and humbled to have had the opportunity to command twice at the platoon, company, and unit levels in various Light, Airborne, and Special Force units.
Brigadier-General Errington held a variety of staff jobs within the Battalion. However, he has predominantly been employed in current operations from the rank of Capt to BGen (Brigade G3 Operations (Ops), J35 in Canadian Expeditionary Force Command, DHTC Ops O/COS, CA G33, Director current Ops at Strategic Joint Staff and Chief of Staff Ops for the CA).
Brigadier-General Errington's operational experience includes overseas deployments to Croatia, Bosnia, and Afghanistan. His domestic operations have included those deployed to floods in Winnipeg and Medicine Hat; forest fires in British Columbia; and providing security for the G8 Summit in Kananaskis and the Vancouver Winter Olympics in 2010.
Brigadier-General Errington has had some unique honours throughout his career, serving in the Queen's Guard at Buckingham Palace in 1998, leading the Canadian parachute contingent to Normandy, France, in honour of the 70th Anniversary of D-Day, and commanding 3 PPCLI during the 100th Anniversary Commemoration. He has also held the appointment of Director of the Royal Canadian Infantry Corps from February 2016 to July 2019.
Brigadier-General Errington is currently on his third posting to the Canadian Forces College (CFC). As a student on the Joint Command and Staff Programme 33 (JCSP 33), he acquired his MDS. In 2015, he was a student on the National Security Programme (NSP 8), and assumed command of the CFC in July 2020.
Date modified: