Dr Christopher Spearin
Department of Defence Studies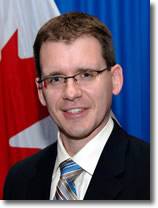 Contact
Email
Tel: 416-482-6800 ext 6857
Fax: 416-482-6802
Address: Canadian Forces College
215 Yonge Blvd
Toronto ON M5M 3H9
Areas of Interest
Non-State Actors and Conflict
Privatization of Security and Mercenarism
Canadian Foreign and Defence Policy
Educational and Professional Background
Dr Christopher Spearin holds a BASc from McMaster University and an MA in International Affairs from Carleton University. He conducted his doctoral work in political science, with a speciality in security studies, at the University of British Columbia. He joined the College as an Assistant Professor in 2003, was promoted to the rank of Associate Professor in 2007 and to Professor in 2017. During his time at the College, Dr Spearin has held a number of administrative and curriculum development posts and has taught in all of the College's major on-site programmes.
Current Research and Projects
Dr Spearin's research concerns change in militaries, global security governance, non-state actors and conflict, mercenaries, the privatization of security, piracy, and Canadian foreign and defence policy. His work has been published in a number of edited books and in a variety of forums, including Canadian Foreign Policy, Canadian Military Journal, Civil Wars, Contemporary Security Policy, Human Security Bulletin, International Peacekeeping, International Journal, International Politics, Journal of Conflict Studies, Journal of International Criminal Justice, Naval War College Review, Oxford Analytica, Parameters, RUSI Journal, Security Dialogue, Small Wars & Insurgencies, and World Defence Systems. Dr Spearin is the yearly contributor on Canadian foreign and defence policy in the longstanding Canadian Annual Review of Politics and Public Affairs, published by the University of Toronto Press. He wrote the book Private Military and Security Companies and States: Force Divided, published by Palgrave Macmillan.
Date modified: