Dr Barbara J. Falk
Department of Defence Studies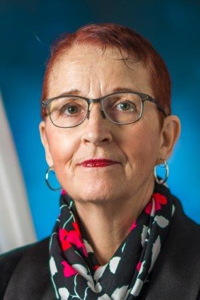 Contact
Email
Tel: 416-482-6800 ext 6871
Fax: 416-482-6802
Address:  Canadian Forces College
215 Yonge Blvd
Toronto ON M5M 3H9
Areas of Interest
Cold War and Post-9/11 security debates
Political Philosophy: Dissent and theories of violence and non-violence
Political Trials
Comparative genocide and mass atrocity violence
International relations; political theory; public policy of Canada, Europe, and US.
Educational and Professional Background
Dr Barbara J. Falk holds a BA in Political Science from the University of Victoria, an MA and PhD from York University, and an MSL (Master of Studies in Law) from the University of Toronto. Dr Falk joined the academic staff of the Canadian Forces College (CFC) as Associate Professor in September 2006, after teaching for over 10 years in a variety of post-secondary contexts, most recently at the Munk School for Global Affairs at the University of Toronto, where she is a Fellow of the Centre for European, Russian, and Eurasian Studies, and has taught in two of their graduate programmes. Before returning to academic life, Dr Falk worked for ten years in progressively responsible management positions in women's issues, human resources, and labour relations, in both the public and private sectors. Among other positions, she was Director of Human Resources at Sony Music Canada, and Director of Compensation and Labour Relations Policy for the Government of Ontario.
Current Research and Projects
Dr Falk's areas of research and teaching specialization include political philosophy; theories and practices of dissent; Cold War history; the politicization of justice; genocide, theories of violence and non-violence; post-9/11 debates on international humanitarian law and the law of armed conflict; comparative and regional security studies; law and policy; and contemporary public policy in Canada, the United States, and Central and Eastern Europe. In 2002, she published the first thorough and comparative account of dissident theory and activism under communism, entitled The Dilemmas of Dissidence in East-Central Europe: Citizen Intellectuals and Philosopher-Kings. In 2004, she was awarded a Canada Council grant, and in 2011, she received a three-year standard SSHRC grant for her research and writing on political trials. In 2008, she published a monograph entitled "Making Sense of Political Trials: Causes and Categories" in the Controversies in Global Politics & Societies series of the Munk Centre for International Studies. She has also published many book chapters and peer-reviewed articles on security law and policy, political trials, dissent, and the life and work of Václav Havel.
Date modified: