Lieutenant-Colonel A.I.M. Torrance
Director of Future Programmes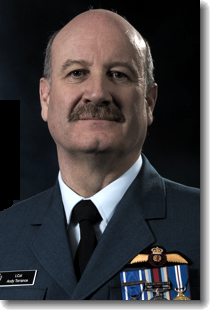 Lieutenant-Colonel Andy Torrance was born in Poole, England, in 1963 and graduated from the Royal Air Force College Cranwell in 1984.  Following professional training, he served as a C-130 Hercules navigator in the transport, tanker, and tactical transport roles on No 30 Squadron, No 24 Squadron, No 57 (Reserve) Squadron, and finally as Officer Commanding No LXX Squadron, all based at RAF Lyneham in Wiltshire.  Operationally, he has flown in support of operations in the Falklands, the Balkans, East Timor, Iraq and Afghanistan, serving as the C-130 Detachment Commander Darwin in 1999 and in Kandahar in 2005 and 2007.
Between flying tours, LCol Torrance completed tours of duty as an instructor at the Air Navigation School, as Staff Officer to Air Officer Commanding No 38 Group at RAF High Wycombe, and as a Desk Officer (Career Manager) at the RAF's Personnel Management Agency at RAF Innsworth.
LCol Torrance attended the Advanced Staff Course at the Joint Services Command and Staff College Shrivenham in 2002-3, graduating with a Master of Arts from King's College London before serving as Strike Command Plans 1, with responsibility for planning issues affecting the UK's Air Transport; Air-to-Air Refuelling; Intelligence, Surveillance, Target Acquisition and Reconnaissance; and Search and Rescue helicopter forces; the RAF Regiment; and the RAF's Air Combat Support and Service Support Units. 
LCol Torrance was appointed to the CFC staff as an exchange officer member of Directing Staff in August 2007 for JCSPs 34 through 36, taking early retirement from the RAF at the end of October 2010 and joining the RCAF two days later. After serving two years in the Department of Exercise and Simulation, he became the CFC's Director of Future Projects in 2012, with particular responsibility for the preparation of a new syllabus for the Joint Command and Staff Programme. He was permitted to rejoin the ranks of Directing Staff for JCSPs 40 and 41 before taking on the role of Programme Officer for JCSPs 42 through 44.
He was appointed Director of Future Programmes in August 2018.
LCol Torrance lives in Scarborough with his wife, Siobhan, and their four children.
Date modified: