Brigadier-General K.R. Cotten, OMM, CD
Commandant of the Canadian Forces College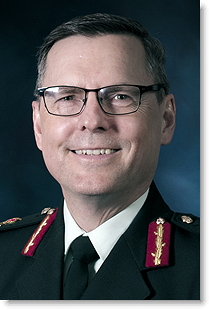 Brigadier-General Kevin Cotten enrolled in the Canadian Forces in 1980 as a Reserve Gunner with the 30th Field Regiment, Royal Canadian Artillery. After graduation from the University of Ottawa with a Bachelor of Business Administration, he transferred to the Regular Force in 1985, completing consecutive Regimental tours with the 3rd Regiment Royal Canadian Horse Artillery (RCHA) (1985-1988) and 5e Régiment d'artillerie légère du Canada (1988-1990) in the positions of Command Post Officer, Gun Position Officer, Troop Commander, and Battery Captain.
Following successful attendance at the Canadian Land Force Command and Staff Course in 1990, BGen Cotten was posted to the G3 Operations staff of Headquarters 1 Canadian Mechanized Brigade Group. Upon promotion to major in 1993, he was given command of D Battery, 2 RCHA.
From 1995 to 1998, BGen Cotten was assigned to Land Force Central Area Headquarters as G3 Training, during which time he completed a six-month tour in Bosnia-Herzegovina as Chief of Staff of the Canadian Contingent of the NATO Stabilization Force.
Upon graduation from Canadian Forces Command and Staff Course 25 in 1999, BGen Cotten was appointed G3 of 1 Canadian Mechanized Brigade Group in Edmonton, Alberta. In June 2000, he was promoted to lieutenant-colonel and posted to Land Force Western Area Headquarters as G1 Personnel.
In July 2002, BGen Cotten was given command of 2 RCHA. From July 2003 to January 2004, he was deployed to Afghanistan on Operation Athena with elements of 2 Canadian Mechanized Brigade Group, including 190 members of his regiment. He fulfilled the duties of Fire Support Advisor to Commander Kabul Multi-National Brigade, as well as the appointment of Commanding Officer Canadian Brigade Troops.
BGen Cotten was promoted to colonel and appointed Commander of Canadian Forces Recruiting Group in June 2004. From January to June 2007, he attended the National Security Studies Programme at the Canadian Forces College. From July 2007 to September 2009, he served as Army Adviser, Canadian Defence Liaison Staff (London). Following a nine-month deployment to Afghanistan with the NATO Training Mission in 2009-10, BGen Cotten was appointed Army G3 and Director of Land Force Readiness in August 2010.
In 2011, BGen Cotten was promoted and joined the Military Personnel Management Capability Transformation project as the Project Leader.
BGen Cotten was appointed commander Joint Task Force Nijmegen in 2012, the 60th Anniversary of CF Participation in "The Four Days Marches", and retained the appointment for 2013.
In October 2013, BGen Cotten was appointed Director General Public Affairs and joined Assistant Deputy Minister (Public Affairs) at National Defence Headquarters. In July 2015, he assumed command of the Canadian Forces College as Commandant.
Date modified: