Chief Petty Officer 1st Class T.K. Gregory, CD
Chief Warrant Officer of the Canadian Forces College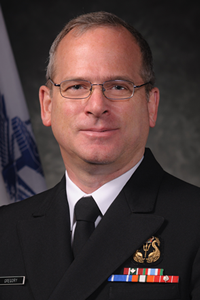 Chief Petty Officer 1st Class (CPO1) Kent Gregory was born in April 1966 in Toronto, Ontario, and grew up in both Vancouver, British Columbia, and Dundas, Ontario. At the age of 13, he joined 735 Firebird Squadron of the Royal Canadian Air Cadets in Dundas. He enrolled in the Canadian Forces in May 1985 as a Finance Clerk.
Upon completion of both basic and initial trades training, CPO1 Gregory was posted to Canadian Forces Base (CFB) Halifax in the Base Comptroller section and completed a training cruise aboard Her Majesty's Canadian Ship (HMCS) Iroquois. In 1989, he was promoted to leading seaman and posted to HMCS Halifax as the junior pay writer and member of the Commissioning Crew of the first City Class Frigate. CPO1 Gregory attended his Junior Leadership Course at CFB Summerside, Prince Edward Island, in 1990, graduating as the Green Flight Distinguished Graduate. While a member of HMCS Halifax, he obtained his qualification as a Ship's Team Diver. He was promoted tpo master seaman in 1992, and posted to the Wing Comptroller section at 12 Wing Shearwater, Nova Scotia.
In 1996, CPO1 Gregory was posted to CFB Petawawa in the Base Comptroller section. He was promoted to petty officer 2nd class and attach-posted as the Chief Clerk of the Canadian Contingent to Operation Calumet in El Gorah, Egypt, in July 1997. On return to Canada, CPO1 Gregory attended the Train the Trainer course for the Financial Managerial Accounting System, and then taught the course at CFB Petawawa. In the fall of 1998, he was attach-posted to 2 Combat Engineer Regiment, setting up pay services. In 1999, he was posted as the IC Battalion Orderly Room at 3 Royal Canadian Regiment (RCR) in Petawawa. He completed his conversion course to Resource Management Support Clerk in March 2000, and deployed in March 2001 to Operation Palladium Roto 8 in Bosnia-Herzegovina with the 3 RCR Battle Group as the IC of Administration and Battle Group Orderly Room Supervisor.
CPO1 Gregory was promoted to petty officer 1st class in July 2002 and posted to the National Capital Region, where he worked at the Directorate Military Pay and Accounts Processing as the senior analyst and IC of the Automated Cashier System. In 2005, he attended second-language training in Gatineau, Quebec, and after obtaining a bilingual profile in 2006 was promoted to chief petty officer 2nd class and posted to the Chief of the Maritime Staff in Risk Management Services. In February 2008, he was selected to be the first Maritime Command Chief Petty Officer's Assistant. CPO1 Gregory was posted to the Canadian Forces Electronic Warfare Centre as the Administration Officer in June 2009, and in 2010, he was posted to CFB Esquimalt as the Base Orderly Room Supervisor. He was promoted to chief petty officer 1st class in May 2011, and appointed the Base Superintendent Clerk and Base Administration Branch CPO. In June 2012, CPO1 Gregory was posted to Kabul, Afghanistan, as the Camp Regimantal Sergeant Major for Camp Eggers under Operation Attention. In August 2013, he was posted to the Royal Military College of Canada in Kingston, Ontario, to attend the Non-Commissioned Members Executive Professional Development Program. In June 2014, CPO1 Gregory was posted to Director Naval Personnel and Training as the Royal Canadian Navy Honours and Recognition Staff Officer, and in August 2015 appointed Directorate CPO at Director Naval Personnel and Training. In July 2017, CPO1 Gregory was appointed to his present position as the Canadian Forces College Chief Warrant Officer.
CPO1 Gregory currently resides in Toronto, and he has two sons, Richard and Timothy.
Date modified: