Colonel J.A.P. Viens, CD, MSc, MEng
Deputy Commandant of the Canadian Forces College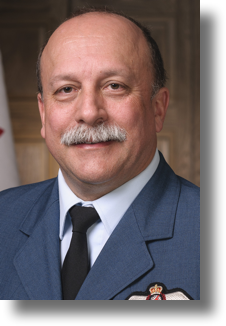 Colonel Pierre Viens joined the Canadian Forces through the Regular Officer Training Plan in June 1981 and was promoted to colonel in 2018.
Upon graduation from the Royal Military College of Canada (RMCC) at Kingston, Ontario, in 1986, he went on to earn his navigator wings at the Canadian Forces Air Navigation School in Winnipeg, Manitoba.
During his career, Col Viens has accumulated more than 2,000 hours of flying time with several postings to 405 (Maritime Patrol) Squadron in Greenwood, Nova Scotia. Here he worked in many capacities including senior appointments as Mission Commander and Flight Commander. Other postings were to 14 Software Engineering Squadron, where he worked as programmer-analyst, Project Manager, Software Configuration Manager, and Engineering Resource Manager.
Col Viens' international service includes: a seven-month deployment to Eindhoven, The Netherlands, in support of the International Security Assistance Force (Afghanistan); and a posting to North American Aerospace Defense Command Headquarters (NORAD) in Colorado Springs, Colorado. For his contributions to NORAD, Col Viens was awarded the US Joint Service Achievement Medal, the US Joint Service Commendation Medal, and the US Meritorious Service Medal.
Col Viens holds a Bachelor of Engineering in Computer Engineering from the RMCC, and two master's degrees, one in Acoustical Engineering and one in Electrical Engineering, both from Pennsylvania State University. He is also a graduate of both the USAF Air Command and Staff College and the USAF Air War College at Maxwell Air Force Base, Alabama.
Col Viens was an Assistant Professor in the Mathematics and Computer Science Department at RMCC. At the Canadian Forces College (CFC), he has worked as the Deputy Director of Curriculum, Head of the Department of International Affairs and Security, and, finally, as the Chief of Staff and unit Commanding Officer.
Between July 2015 and July 2017, Col Viens was the Commandant of the RCAF W/C William G. Barker VC Aerospace College in Winnipeg, Manitoba. He most recently served at the Canadian Defence Academy Headquarters in Kingston as Director for Professional Development.
Col Viens was appointed Deputy Commandant at CFC in July 2018.
Date modified: